Grandjean's story started 130 years ago.
Our history begins on November 16th, 1883 when Mr Henry Grandjean signed a transport and storage convention in La Chaux-de-Fonds with the railway company Jura-Bern-Lucerne (JBL), who in 1890 became the company of the Jura-Simplon (JS) and incorporated in 1903 to the Swiss Federal Railway " CFF".
In 1926, the customs agency Henri Grandjean is doing business in La Chaux-de-Fonds and Morteau / F, as it is possible to follow the evolution of the company, for example, in 1944 in an article of the magazine "Federation Horlogère Suisse". In those days Henri Grandjean is a maritime agent of the General Transatlantic Company and of the Dominion Express Company of Canada.
At the end of the Second World War, the company Henri Grandjean SA works in close collaboration with the customs agency Henriot SA in Morteau / F, in establishing a rapid rail service of parcels between Switzerland and France.
In response to the growing needs of reactivity and flexibility, the rail transport is abandoned in favour of road groupage which is more appropriate to the clients' needs.
Opening of our customs agency in the Locle with 3 employees.
Set up of a daily round trip between « Neuchâtel, Bienne, St-Imier » still existing today.
Having no descendants, the owner of the company Henri Grandjean SA sells the company on September 7th, 2000, to the societies Henriot SA in Morteau / F and PESA Port-Franc et Entrepôts de Lausanne-Chavornay SA in Chavornay. As from that date the company is called Grandjean Transports SA.
Grandjean Transports SA moves in it's offices at the Rue de la Jardinière 139, in la Chaux-de-Fonds.
Grandjean Transports SA becomes an authorised sender and consignee and receives the approval for its operation of a bonded warehouse.
Set up of a daily round trip in the canton of Jura, up to Porrentruy and Delémont which still exists today.
Acquisition of new vehicles which are fully secured and incorporate geolocalisation.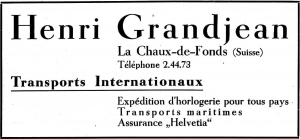 Service… the DNA of Grandjean
With more than 130 years experience in goods dispatching throughout Switzerland, Europe and world wide, our philosophy and our historical values of are still the ones that make our strength and our reputation of today.
Advice
Our centennial knowledge in transport and advanced customs operations gives us our renowned competence to advise our demanding and concerned clientele in particular those of the watchmaking and industrial world.
Reactivity
Because in the world of transport and transit, movements and changes are part of our daily business, we have to be reactive in order to meet your demands.
Trust
Our clients entrust us with their most valuable goods as we work hand in hand with them. In parallel we have been able to develop an international network consisting in reliable and efficient partners.
Flexibility
Our clients know that they can count on our availability, careful listening and a keen sense of service in order to satisfy their daily requirements.